Product Description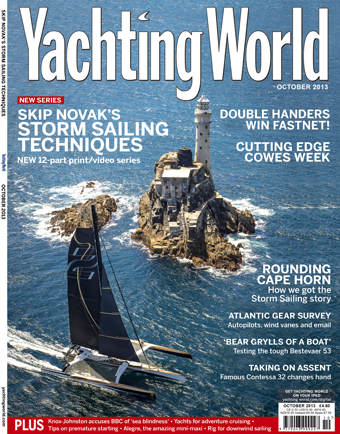 1. From the editor - The theme of this issue is about heavy weather, techniques for coping with it, boats built for sailing through it and the launch of a special series on the subject.

2. On The Wind - Two of the biggest events in the UK?s racing calendar, the Rolex Fastnet, won for the first time by a double handed crew, and Aberdeen Asset Management Cowes Week, produced some great stories and spectacular images.

3. Matthew Sheahan If you think charted depths are inaccurate you could produce a do-it-yourself chart using new equipment from Navico.

4. Elaine Bunting on yachts designed for harsh climates. They need to be simple but homely and crew perhaps need to re-examine their own attitude to life aboard without modern conveniences

5. Robin Knox-Johnston - The start of the Rolex Fastnet involved almost 350 yachts, more than 3,500 crew and the weather was perfect. Why didn?t the BBC cover it?

6. Project Cape Horn - In one of the most ambitious projects ever undertaken by this magazine, a team went to Cape Horn and the Beagle Channel to research storm sailing techniques with Skip Novak. David Glenn describes how we got the story

7. NEW SERIES - Skip Novak?s Storm Sailing Techniques Pt 1: The Pelagic Philosophy. Sailing in heavy weather demands simple equipment, good planning and common sense, says Skip Novak

8. Taking On Assent - When Jessie and Kit Rogers bought Willy Ker?s Contessa 32 Assent, they were in awe of the legendary stories that came with her. Jessie was keen to find out more

9 .Atlantic Gear Survey Pt 2 - The turn of autopilots, vane steering gear, data comms and email to come under the survey spotlight

10. Great Seamanship - A remarkable story of tenacity involving the recovery of a yacht wrecked on Easter Island in the 1930s.

11. ?Bear Grylls of a Boat? - On Test: Bestevaer 53. Tough, simple, comfortable. It?s what you need for a go anywhere yacht

12. Yachts - Continuing this month?s theme we look at go anywhere yachts on the drawing board. A new range from Novak and Castro, Jimmy Cornell?s yacht for the North West Passage and a special version of the evergreen Contessa 32

13. Cruising - Have you registered your EPIRB details? ?Seeing? underwater with new sonar; a marine plan for Scotland; saving your dog, then your wife. Special report: The Simbo rig (simple bow rig) is an intriguing alternative for downwind sailing

14. Performance - James Boyd reports from Palma on the innovative mini maxi Alegre. Plus dealing with a premature start

15. Local Boats - Yorkshire One Design toughs it out in the North Sea

16. Supersail - A new breed of Perini

17. Supersail crew Magnus Day runs the specialist high latitudes adventure cruiser Pelagic Australis

18. One Amazing Day - Pip Hare on a high speed single-handed race and a tricky kite drop.